The Mystery of the Skelton Diamonds
This is a satisfying mystery that is a lot of fun to read. You aren't likely to be surprised by the resolution of this mystery, but you will probably enjoy the process of reaching it, and might find yourself tempted to pick up one of the longer books that feature the same detectives. In short, if you're looking for some quality escapist reading and enjoy period British mysteries, this is a good choice for you.
Favorite Thing:
The police procedural aspect.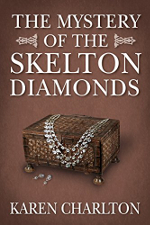 Part of Series:
Short story/novella related to a series of long books