Book Introduction: Drawing in the Dark
Time for a Book Introduction post! Today's post comes from Jeremy Baker, introducing his story collection, Drawing in the Dark. I love the image of using writing to turn yourself into a damp washcloth, so you can wring out some of the emotions.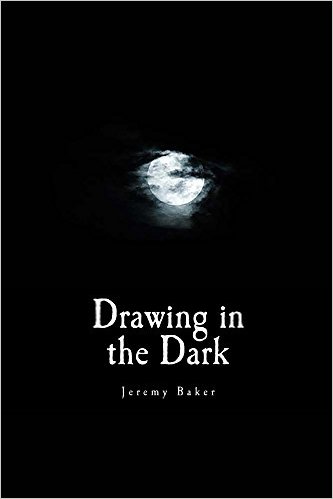 Why I Write
by Jeremy Baker
Kandahar, Spring 2002
It was a simple mission. A quick in and out. A meet and greet with a local Afghan police commander. Press the flesh. Exchange pleasantries, hopefully gather a little atmospherics on the district. My partner Pat and I drove out to the police station in one of the team's pickup trucks, which had been given the affectionate nickname Chopper, after an unfortunate incident with a Blackhawk helicopter that had left a substantial dent in the hood.
All went according to plan at first. Handshakes all around, then a sit-down for tea, then a tour of the police barracks, which had until a few months ago been Taliban property. The Afghan police were in the process of moving in as we took the tour. Excited shouts drew us to the back wall, where they'd stumbled upon a hidden room stuffed to the ceiling with land mines, rocket propelled grenades, AK-47s, and Chinese-made 107 millimeter rockets.
The Afghans formed a human chain to empty the room, casually tossing the mines and grenades from man to man. I decided it was time to head outside, grab Pat's radio, and call in the cache find.
I rounded the corner of the police station and came face to face with the barrel of Pat's M4, pointed right at the center of my chest from about four feet away. One of the locals had broken the pickup's passenger window to steal Pat's radio and rifle. I'd interrupted him.
He stared at me. His face was weathered and worn, creased by deep lines. His eyes were brown, the whites gone yellow. They betrayed no emotion. His finger tightened on the trigger. The weight of my pistol against my thigh mocked me. I'd never reach it.
**
I woke, screaming silently. Sweat poured down my face. My sheets wrapped around me like a shroud, and I fought to get free. I ended up on the floor of my barracks room, tangled in the damp cloth. The sounds of my roommate's gentle snores had a calming effect, bringing me back to reality. Reminding me I was home. I was safe. It was over.
A couple days later I was in for a routine medical to follow up on my positive TB exposure test. The doc asked me if I was having any trouble sleeping. I laughed. Then I told her about the nightmares. She talked about the possible lingering effects of the anti-malarials. I asked her if I should talk to someone.
"It's probably nothing serious," she said, "You'll be fine. It'll most likely go away after a while." (Not a great deal of attention was being given to the PTSD issue in 2002.)
"Sure," I said to her. I thought to myself, "I'm a relatively tough guy. I'll figure this out."
It faded a little, after a couple months. The night sweats, the dreams, the anger at nothing and no one that came out of nowhere for no reason. The feeling of being trapped by my seat belt, of second-guessing every pile of roadside trash. But it didn't go away. Not until I started writing.
**
The 12 short stories and the novella that make up my book, Drawing in the Dark, were written over a period of twelve years, starting about a year after I got back from Afghanistan. At first, it was a way to somehow try to turn myself into a damp washcloth. To wring out some of those things I was feeling without actually having to talk to anyone about them.
Putting my thoughts, emotions, and nightmares to paper, and ascribing them to a character other than myself allowed me to safely explore them at a distance, within the protective confines of the genres I've always loved: sci-fi, fantasy, horror, alternate history. The fear, the anger, the moments of dark humor shared with a small squad of brothers--all of these things spilled out of me and are represented in this book.
Somehow, during it all, the writing turned to something else. Something that felt deeper. More true. There was something undeniably rewarding about pouring myself out on the screen or the notepad, about closing the open circle of a story, about building a germ of thought into a bigger idea and then into a whole world in my own mind, and then going into that world and pulling out a single thread of narrative to tell a story. That's where Drawing in the Dark came from. It was born in my own fears, the fever dreams of PTSD. Through it I discovered a love of writing, particularly of short stories.
**
About Drawing in the Dark
On a lonely mountain, deep in the high desert country of the American Southwest, a rifle-toting nun faces an unexpected test. A scientist makes an incredible discovery at the heart of a melting European glacier, and nine years later finds himself inexorably drawn back to the site. During the Siege of Bastogne, while facing overwhelming odds in the frozen forests of Belgium, a pragmatic young medic encounters a war he never could have imagined. The Florida Everglades exert an irresistible, supernatural pull on a dying man, the last descendant of a great Seminole shaman. A young girl, trapped in a waking nightmare and seemingly without hope, devises her ultimate escape using the most unexpected tools. A group of desperate men, almost out of luck and on the run, find themselves in an eerie Badlands town. This book delivers these tales and more, in a collection of twelve haunting short stories and one novella.
You can buy Drawing in the Dark on Amazon, and you can find Jeremy on Facebook or at his Amazon author page.