Book Introduction: HEY DOORMAN VIII: True Tales of an Uncommon Bouncer in Los Angeles
Today's Book Introduction post introduces the fourth book in the Hey Doorman series. I like to read series in order, so I have the first book in the series in my "to read" folder on my Kindle. However, the fourth book is the one that's just come out. Here's the intro:
HEY DOORMAN VIII: True Tales of an Uncommon Bouncer in Los Angeles
By John P. Kildemm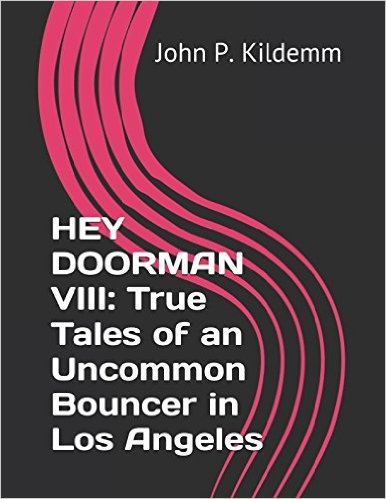 When I published the third volume in my Hey Doorman series, I swore that would be the final installment. After being hired to write for Adultswim's The Eric Andre Show and other television and film projects, it seemed certain that the Hey Doorman series was put to rest. Then something strange happened: the rise of Donald Trump. As I continued to work as a part time bouncer in Los Angeles, the nation seemed to become more and more splintered as the 2016 presidential campaign and subsequent election transpired. I saw this first hand, and some would say even more accurately than pollsters as I often saw people at there most honest, after they've been loosened up with adult beverages. But it was right after the election of now President Trump that I overheard a conversation by two Trump supporters in the heart of liberals, West Hollywood, California, that inspired me to write my latest, darkest, and most hilarious installment of Hey Doorman. To take a quote from this installment that was a quote from the late Russell Jones: "That guy's dumber than a bag of hammers at the bottom of a frozen lake."
HEY DOORMAN VIII is available at Amazon.
You can follow the author on Twitter at @OutlawHaji.